RIMEX offers a wide-range of one-piece, two-piece, and articulating lock rings manufactured to the highest standards using quality steel.
One-piece Lock Rings
One-piece lock rings are produced with a minimum 2″ overlap (exact amount will vary slightly by size and type). Over time lock rings will lose their spring and the amount of overlap will reduce. Therefore, RIMEX recommends regular visual inspections of the lock ring to ensure it hasn't stretched beyond product guidelines. Read about lock ring inspection and safety.
Articulating Lock Rings (ALR)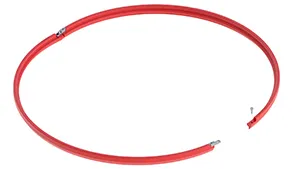 RIMEX articulating locks rings are designed to increase safety. Unlike traditional one-piece lock rings, there is no stored energy released when the part is removed. Damaged hinges are easily replaced and do not result in a scrapped component. Optional EZ GRIP handles protect hands from the hazards and dangers associated with with tire maintenance.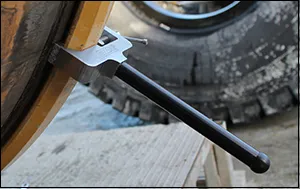 ALR Advantages
Easy to install
Identical lock ring halves hinge from either end to suit the wheel position.
All components are recessed reducing the risk of damage during operation.
Damaged ALR hinge assemblies are easily replaced as needed.
The lock ring style is clearly engraved beside the hinge on each section of the ALR, for easy identification.
No overlapping ends, eliminating  pinchpoint injuries.
RIMEX manufactures Articulating Lock Rings for 51 – 63″ lock ring styles (HDT, TSR, MST) to suit all equipment types.
Two-piece Lock Rings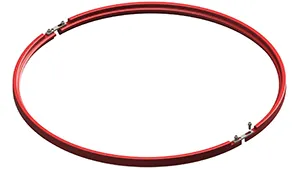 RIMEX produces two-piece lock rings for DGS and IGLR style wheels.
Safety benefits of 2 piece lock rings:
Pinch points and unreleased tension, eliminated
Lock ring sections are lighter, easier to handle, install and secure in place
The sections are bolted together with retaining clamps ensuring they remain secured in place
Easy to store
RIMEX Lock Ring styles
I Lock Rings

Commonly used in high pressure applications
RIMEX uses this design in 20 and 24" rim diameters"
4 piece, tube type rim designs
Industry standard lock ring is easily mismounted
RIMEX I lock ring CAN NOT be mismounted

T Lock Rings

Used on 3, 4 and 5 piece wheels for light duty graders, loaders and haulage
RIMEX uses this design in 10 through 38" rim diameters

EM Lock Rings

Used on 3, 4 and 5 piece wheels and rims in a wide variety of applications
RIMEX uses this design in 10 through 49" rim diameters

EV Lock Rings

Used on 33, 35 and 49" haulage wheels/rims
Light duty design
For higher PSI or heavier load applications, RIMEX strongly recommends EMH

EMH Lock Rings

RIMEX exclusive design only compatible with EMH gutter sections
For increased safety in high pressure, heavy load applications
Painted blue for easy identification
Used on 25 through 49" wheels/rims for a wide variety of applications
RIMEX produces 2 piece models for DGS fitment

HDT Lock Rings

Industry standard used by most manufacturers for 51, 57 and 63" applications
RIMEX uses on a variety of applications from 45 through 63"
RIMEX produces a variety of 2 piece models for DGS/IGLR fitment
51 – 63″ NOW AVAILABLE in NEW ALR style

TSR Lock Rings

RIMEX exclusive design only compatible with TSR components [NOT interchangeable]
Designed for increased safety and the longest service life in the industry
Used on 33 through 63" applications
RIMEX produces a variety of 2 piece models for DGS fitment
TSR lock ring is painted red for easy identification
51 – 63″ NOW AVAILABLE in NEW ALR style

MST Lock Rings (45″ and up)

51 – 63″ NOW AVAILABLE in NEW ALR style