tyresense
Stay connected to the operating conditions inside your tires with TyreSense, the most trusted temperature and pressure monitoring system since 1999
Designed + Developed in-house by RIMEX
Real-Time Tire Pressure And Temperature Management
TyreSense is a tire (tyre) Temperature and Pressure Monitoring System (TPMS) designed for mining and industrial operations of all sizes from single operator-driven vehicles to large autonomous fleets. Our comprehensive range of products make it easy to manage every aspect of tire monitoring across entire sites, from third-party fleet management integration to advanced event monitoring and data analytics.
The Value of TyreSense:
Designed, developed, and manufactured in-house by RIMEX.
Suitable for operations of all sizes from single vehicles to large fleets.
Preferred by the world's largest mining companies for their autonomous haul truck fleets.
Integrates with third-party fleet management systems.
Compatible with every tire manufacturer's product, providing the flexibility to choose the tires that work best and the freedom to change at any time.
Advanced client and web-based monitoring and data analytics software solutions.
Next generation hardware with advanced GPS, IMU, 4G cellular, and 40-pin connector.
Comprehensive support available worldwide.
Made In Canada
Tyresense Features
Actual Data
TyreSense uses actual data from the internal tire sensor readings to determine when corrective action is required. Studies demonstrate a stronger correlation between the tire chamber temperature and the belt temperature than the TKPH model. To find out more about TPMS versus TKPH, click here.
Magmount Technology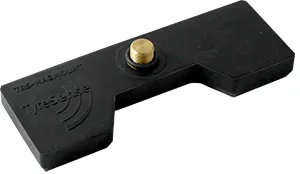 Magmount technology allows sensors to be securely mounted to wheel rims by magnetic force, eliminating unreliable patches glued inside the tires.
Inflation and Deflation System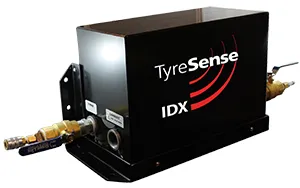 The IDX: Inflation and Deflation System rapidly delivers uninterrupted air flow, governed by precise and continuous data from the wheel sensor. This significantly reduces the downtime demanded by mechanical or manual airing up. The station also enables preset and remote controls, keeping personnel a safe distance from potential hazard zones.
Global Positioning System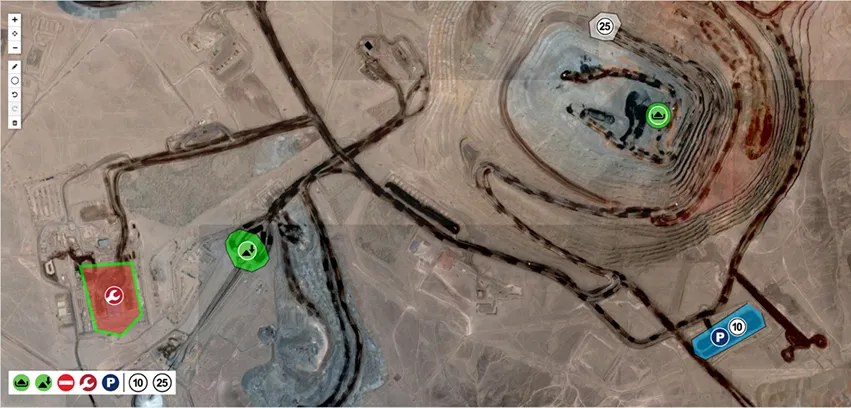 A Global Positioning System (GPS) tracks the location and movement of all TyreSense-equipped vehicles on an area map that represents the work site. Geofencing capabilities in TS4 Web use the GPS data in combination with virtual perimeters defined on the area map to track haul cycles, speed violations, and entry into no-go zones. If a vehicle crosses over a no-go geofence boundary or exceeds a defined speed limit for a speed zone, an alert can be triggered to notify operators, who can respond accordingly to maintain site safety. Load and dump geofence zones are used to track critical haul cycle data.
The mine tire manager then turned to his RIMEX representative, who proposed an innovative solution to narrow the stock wheels. This strategy was agreed upon, and within three weeks the new wheels were delivered to the mine, at a dramatically lower cost of $19,966.00 per truck!

---

Innovating and Saving

The total elapsed time from the initial incident to restored service was just two hours. TyreSense and a quick-acting contractor preserved an expensive loader tire and minimized valuable down time.

---

Loader Tire Saved

We have now had TyreSense operational in the business for approximately four months and have seen lots of cost and safety advantages in our fleet.

---

Australian Mine Increases Efficiency With TyreSense

…if a truck is worth $1,200 to $1,500 per hour in operation, then the cost savings are approximately $1 million. Investing in the TyreSense TPMS quickly recoups its cost and realizes considerable savings into the future.

---

Savings on Pressure Maintenance Checks

…all of our large rear dump trucks and loaders are fitted with TyreSense which has proven to be a very reliable system that gives good information and allows us to track tyre performance, extend tyre life and monitor circuit conditions.

---

RIMEX Products Offer Value for the Money

Analysis of standard maintenance and service tasks on the wheels revealed an impressive 43% time-saving for the RIMEX DGS/IGLR series. As well, the results of the testing pronounced RIMEX wheels 18% more efficient overall.

---

Winning Wheels